Juicing is an increasingly popular practice. Basically, juicing extracts the liquid from fruit and vegetables, leaving behind the fibrous parts.
Smoothies consist of blended whole fruit and vegetables, commonly combined with a liquid such as water, milk or yoghurt.
Juices vs Smoothies
Juices:
Low fibre

Higher sugar concentration

Can be helpful for people who do not have energy to extract nutrients from cells, choose low-sugar ingredients
Low sugar juice ingredients: celery, ginger, lemon, tomato, cucumber
Smoothies:
More fibre which increases the sense of satiety, helps regulate blood sugar levels and aids digestion
Healthy Juice Recipes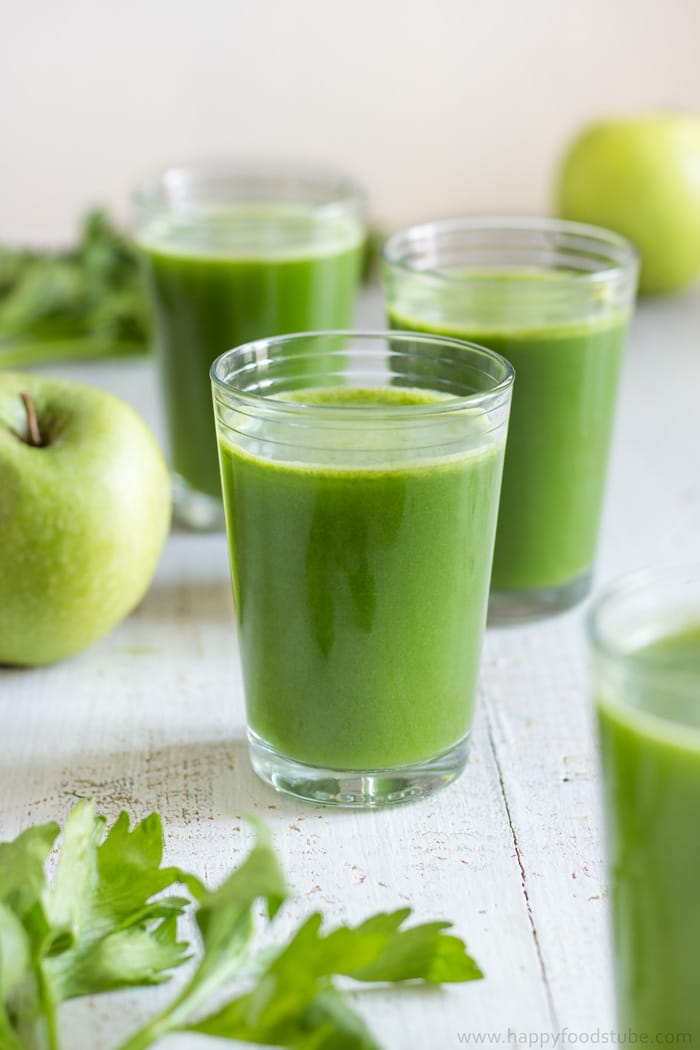 3 servings (1 cup each)
10 minutes
Ingredients
4

 

Large Apples

6

 

Celery Stalks

2

 

Kale Leaves
Method
Wash the ingredients under running water.

Core the apples. De-stem kale leaves. Throw them in a juicer altogether with celery stalks, that have been cut into smaller pieces.

The juicing takes literally a minute or two.

Once juiced, pour into glasses and serve right away!
5 servings (1/2 cup each)
10 minutes
Ingredients
1/4

 

cup

 

orange juice

3

 

Tbsp

 

lemon juice

1

 

small

 

nectarine, 

pit removed

1

 

small

 

apple, 

cored and quartered

1

 

Tbsp

 

fresh ginger, 

peeled

4-6

 

whole

 

carrots, 

peeled/tops removed

3-4

 

sprigs

 

fresh mint

 

(optional)

1-2

 

cups

 

filtered water
Method
If using a juicer, add all ingredients to the juicer and press (omit water). Otherwise, squeeze orange and lemon juice into a blender as the pulp can make the juicing process more difficult.
Next add nectarine, apple, ginger, carrots, and mint (optional). Top with filtered water (start with the lesser quantity), cover and blend until combined. You don't want your blender to get the juice too hot in temperature so be careful not to over-blend - it shouldn't take more than 30 seconds.
Drape a clean, thin towel over a large mixing bowl and carefully pour over the juice and pulp. Then gather the corners and begin extracting the juice, leaving the pulp behind. Continue squeezing until all juice is extracted. You can either compost the pulp or add it to baked goods!
Enjoy the juice fresh. Cover and refrigerate leftovers for 2-3 days, though best in the first 12-24 hours for mineral and vitamin content.
Healthy Smoothie Recipes
1 serving
10 minutes
Ingredients
1 ½ frozen bananas
30g frozen spinach
30g frozen kale
1 tablespoon almond butter
150ml fresh apple juice
Method
Place all of the ingredients into a blender or food processor.
Pulse until smooth.
Ingredients
1 organic avocado, pitted and peeled

1 cup 

organic coconut milk

2 tsp Manuka honey or dates
Method
Combine all ingredients in a blender.

Blend until smooth.
Blueberry Coconut Chia Smoothie
Ingredients
1 cup frozen blueberries
1 2-ounce pack frozen coconut meat
¼ cup raw cashews, soaked overnight
1 tablespoon chia seeds
1 pitted date
1 teaspoon lime juice
¼ teaspoon ground cardamom
pinch of pink Himalayan salt
1 cup water
Method
1. Blend all ingredients in a blender until smooth.
4 servings
5 minutes
Ingredients
1.5

 

cups

 

vanilla yogurt

1.5

 

cups

 

milk

 

2

 

large

 

handfuls fresh baby spinach

1

 

cup

 

mango,

 

frozen

1.5

 

cups

 

peaches,

 

frozen

1

 

small

 

banana

2 tsp chia seeds (optional)

Ice

 (optional)
Method 
Add all ingredients to the bowl of a large blender, starting with the liquids (yogurt and milk) and ending with the frozen ingredients (frozen fruit).

Process until frozen mango and peaches are fully blended and the spinach is completely processed.
Join our private Facebook group "Tasty, but healthy" for easy recipes and nutrition tips.
Learn More
How to Boost Your Immune System to Fight the Flu
The Surprising Science of Bloating
Healthy Ways to Manage Chronic Stress
The Ultimate Guide to Rich Sources of Plant Protein